Jessi Palmer, Matt Williams, Jack Hammer Gets face fucked into oblivion, huge black cock, devastating orgasms [HD|2022] SexuallyBroken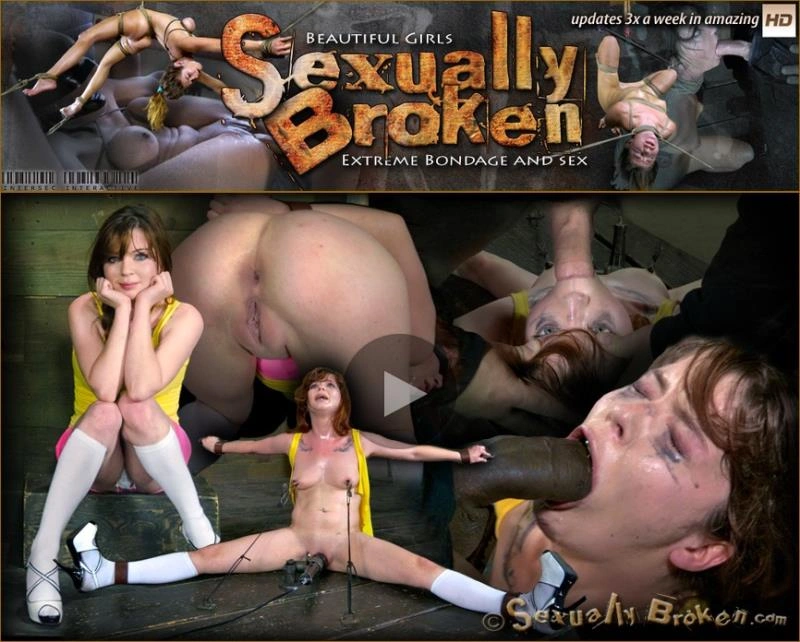 Tiny little Jessi Palmer, all 4'10 of her is back on the best Bondage and Rough Sex site on the net. Sexually Broken brings you the hottest girls on the net getting dicked down without all the unnecessary pain. Other bondage and sex sites ram the S&M pain down your throats. The only ramming should be done to the girls, not you.
This was our little "Meet and Greet" with Jessi. We start by binding her in homemade custom leather cuffs. FYI, we never buy our bondage gear, we make it ourselves. With Jessi's arms trapped helplessly behind her, we cover her eyes with a homemade leather blindfold and start manhandling our tiny little red head. We toss her back and forth, spinning and disorientating her. Jessi's head is still spinning and dizzy when the first cock hits the back of her throat.
Both cocks give Jessi's tiny mouth a good throat fucking. The HUGE black cock rams in as far as it can, the hard white one pushes all the way down the back of her throat balls deep. This is rough skull fucking at it's best and Jessi takes and takes and takes, never surrendering.
We quickly rebind Jessi with her head against a beam, arms and legs spread. We lock and position a vibrator directly on her sensitive little clit. The blindfold is off, now Jessi can see the huge cock coming for her throat. The Vibrator brings her to her first orgasm. As she screams out the first of many brutal orgasms, a cock silences her scream. Jessi learns what Throat Boarding really means, as she is unable to turn her head in the slightest while the cocks fuck her mouth like a tight, wet pussy.
If you thought the first round of skull fucking was brutal, the second Throat Boarding is catastrophic. Now Jessi is being made to cum, the vibrator is ripping orgasms after orgasm out of her tiny body while her throat is being roughly used. Jessi is gone, deep into subspace, cumming and sucking, sucking and cumming. It's all she knows, we have reduced her to a throat fucking cum bot, and she has, sorry I mean, we have, never been happier..
Name Porn:
Gets face fucked into oblivion, huge black cock, devastating orgasms
PaySite:
SexuallyBroken
Year:
2022
Cast:
Jessi Palmer, Matt Williams, Jack Hammer
Genres:
Bdsm video sex, Extreme sex bdsm, Sex archive bdsm
Duration:
00:11:55
Quality:
HD
Format:
MPEG-4
Size:
602 MB