Filth Back where it belongs [FullHD|2022] BrutalMaster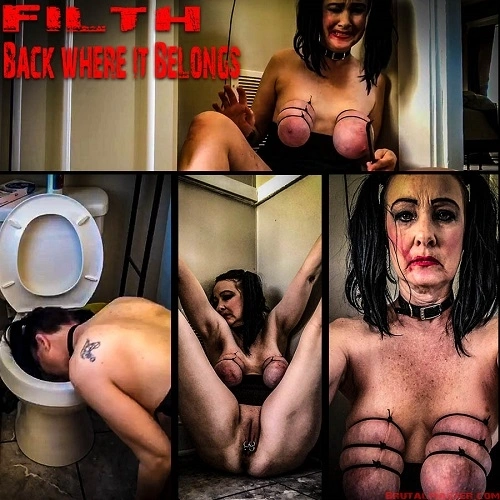 Clearly the world is a different place today. But a pig is still a pig and still has its cravings. With that in mind, Filth has its own spin on "social distancing" that involves abusing herself, including cleaning the toilet with her tongue, cleaning the bathroom floor the same way, binding and beating its udders and, well, you can figure out what that bucket is for.
This is a piece of meat who understands what it needs and what it deserves.
When asked about it, here is what it said: "During one of its tasks, this pig was craving Sir's piss. It proceeded to piss in the toilet and in a jar and drink its own piss."
"It took video of it and Sir was pleased with how it serviced the toile that day. It asked permission to share the video so that others could see what a piss whore it was and was denied. Instead, Sir let it know He wanted His whore to make a video for this BrutalMaster.com."
"This pig is a cunt and lives to suffer. Its purpose is to suffer and be entertainment for others and for Sir."
We should note, the toilet is considered Filth's boyfriend and she must service it often.
Degradation, humiliation, punishment, torture, this is how a true piece of meat shows its worth.
Name Porn:
Filth Back where it belongs
PaySite:
BrutalMaster
Year:
2022
Genres:
Archive bondage, Bondage bdsm porn, Bondage porn video
Duration:
00:17:32
Quality:
FullHD
Format:
MPEG-4
Size:
1.25 GB