Bonnie Rotten, Matt Williams, Owen Gray AVN winner Bonnie Rotten shackled in strict device bondage, fucked to a drooling destroyed mess [HD|2023] SexuallyBroken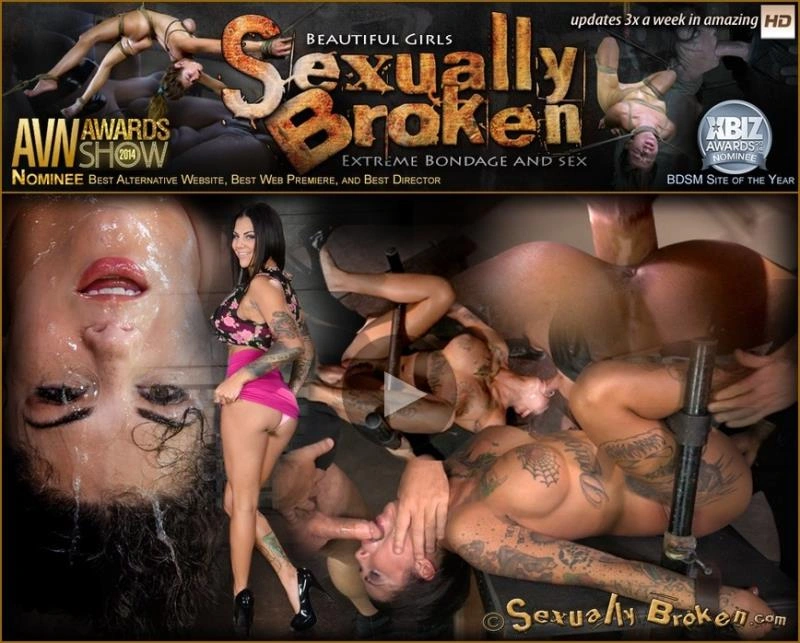 Tan and tattooed Bonnie Rotten won performer of the year, and rightfully so. She knocks every scene out out the park with her eagerness and sheer enthusiasm. This is a slut that knows her way around a cock. She was put on the planet to wrangle the dick and she does it very well indeed. Today we have not one but two dicks for our AVN winner to wrangle.
Bound down on her back in a classic fuck me position, strict metal pipes keep her legs firmly trapped in place. Both ends are deliciously, completely exposed and wide open for use. And use them we do. It is time to show Bonnie exactly what Sexuallybroken means. Anyone can keep on top of the dick when they can pace it. But even a top notch performer like Bonnie will eventually be worn down when you throw tight restraint, hard cock, multiple orgasms and brutal deepthroat at them.
It is a relentless pace straight out of the gate that never lets up, never slows down and is rigorously punishing. At all times, Bonnie has a hard cock buried balls deep in her holes. We switch back and forth, taking whatever end we so desire. Our starlet starts to crumble. Deepthroating the big dick quickly covers Bonnie's face with drool and destroys her pretty porn star makeup. All the while massive squirting orgasms are being ripped out of the pussy.
Bonnie wears destroyed well. She craves the sort of rough handling that turns her brains to mush and she has come to the right place for that. Once we have reshaped Bonnie's holes to be custom fitted, we pull one last gushing orgasm out of her well used pussy before walking away, leaving her languishing in her own cum and drool.
Tags: Big Breasts, Black High Heels, Blow job, Brown Eyes, Brunette, Deep Throat Porn Star, Drool, Enhanced Breasts, Face Fucking, Fake Breasts, High Heels, Smeared Makeup, Squirt, Squirting Orgasm, Tattoo, Three Way
Name Porn:
AVN winner Bonnie Rotten shackled in strict device bondage, fucked to a drooling destroyed mess
PaySite:
SexuallyBroken
Year:
2023
Cast:
Bonnie Rotten, Matt Williams, Owen Gray
Genres:
Bently Layne, Double Blowjob, Anal Mom, Beard, Ass Hook, Boss, Cleave Gagged, Behind The Scenes, Blow Jobs, Bound, Bang Pov, Balletboots, Beach, Dungeons, Elegant Angel, Cowgirl, Beltbound, Chastity Belt, Electronic Breast Training Machine, Dunking, Damsel, Humiliating porn videos, Hard porn pain, Incredible pain in sex, Kink bdsm sex
Duration:
00:12:16
Quality:
HD
Format:
MPEG-4
Size:
250 MB